Revolutionary Lip Treatment with Stellar Reviews ⭐️⭐️⭐️⭐️⭐️
Angellift's lip wrinkle treatment, DermaStrips, are taking the beauty industry by storm. Using a natural approach, this breakthrough technology is quickly becoming the go-to solution for those looking to enhance their lips and reduce the appearance of wrinkles on the lower portion of the face. Unlike traditional Botox injections, Angellift's lip wrinkle treatment utilizes a unique, non-invasive method that has received rave reviews from satisfied customers. Whether you're looking to plump up your lips or smooth out wrinkles and lines, Angellift's DermaStrips offer a safe, effective solution that delivers real results. So, it could be a perfect lip treatment for lines.
AngelLift® Dermastrips beauty device has been tested to reduce lower face wrinkles. The only non-invasive beauty device for the lower face, AngelLift uses gentle pressure to reduce mouth wrinkles such as laugh lines and smoker's lines, in addition to enhancing lips that have lost their volume. Remove lip lines, lip wrinkles and lower facial depressions while restoring your lip shape and roll through safe, light pressure, 15-30 min a day.  
Our Review
AngelLift® Dermastrips have tested to reduce lower face wrinkles. The only non-invasive beauty device for the lower face, AngelLift uses gentle pressure to reduce mouth wrinkles such as laugh lines and smoker's lines, in addition to enhancing lips that have lost their volume.
After using AngelLift® Dermastrips as instructed for 30 days, 30 minutes a day, AngelLift customers have experienced positive results without resorting to expensive, repeated injections of Restalyne, Juvederm, Bellafill or other fillers currently on the market. Injections can be expensive and painful, but AngelLift provides natural mouth wrinkle reduction with ease and at a fraction of the cost.
Check out these amazing real AngelLift before and after results from some of AngelLift's user reviews.
Angellift's Natural Approach to Erasing Mouth Wrinkles and Lines with Breakthrough Technology and Rave Reviews
Lip wrinkles, also known as perioral wrinkles, are a common sign of aging. As women get older, they may notice fine lines or wrinkles around the mouth, which can make them feel self-conscious or detract from their overall appearance.
There are several reasons why older women may get lip wrinkles:
Sun Exposure: Prolonged sun exposure can damage the skin and cause premature aging, including lip wrinkles. Sunburns, tanning, and exposure to harmful UV rays can break down collagen and elastin, leading to wrinkles and fine lines.
Facial Movements: Over time, repeated facial movements, such as smiling, laughing, or pursing the lips, can contribute to the formation of lip wrinkles. These movements cause the skin to fold and crease, leading to lines and wrinkles that can become permanent over time.
Dehydration: Dry skin can make wrinkles more pronounced, and the skin around the lips is no exception. When the skin is dehydrated, it becomes thin, making wrinkles more noticeable. Drinking enough water, using a moisturizer, and avoiding harsh skincare products can help keep the skin hydrated.
Genetics: Some women may be predisposed to lip wrinkles due to their genetics. If your parents or grandparents have pronounced lip wrinkles, you may be more likely to develop them as well.
Smoking: Smoking is a well-known cause of premature aging and can contribute to lip wrinkles. The repeated pursing of the lips when smoking can lead to lines and wrinkles, and the chemicals in cigarette smoke can damage the skin and break down collagen.
AngelLift's permenant mouth wrinkle treatment is the perfect solution. You can experience firmer skin, less wrinkles, and improved sagging relatively quickly. Lip wrinkles, sagging cheeks, thin lips, and even dimples in your chin can be reduced dramatically with realistic results. The results are even longer-lasting if you continue using Dermastrips after the recommended initial treatment period.
In their reviews, AngelLift users have said that Dermastrips are easy to use, that you can use them at any time of day that's convenient, and with consistent use, you will see results. They can't believe how simple it is! And you won't either. These unretouched before and after review photos of AngelLift Dermastrips customers speak for themselves. Notice the diminished lines and enhanced volume – all without injections!
What Lift Is Right For You?
Original Collagen DermaStrips
The Collagen DermaStrips are formulated from a natural, medical-grade hydrogel that is used for cell and collagen regeneration. Over time, this pressure  improves cellular function, inhibits new cell growth, and stimulates collagen and elastin regeneration resulting firmer, more youthful-looking skin.  
30-Day Collagen Rose DermaStrips
The 30-Day Disposable Collagen Rose DermaStrips are the same as the Original DermaStrips except they only last for up to 30 wears.
Vermilion DermaStrips
The Vermilion DermaStrips are formulated with ingredients that pull moisture to the lips and provide a vertical lift. They improve a lengthening philtrum, vermilion thinning, lip volume loss, thinning lips, and plump and restore a flatting cupid's bow. 
Professional DermaStrips
The Professional DermaStrips are formulated with the same ingredients as the Original DermaStrips but offer a 30% stronger lift to improve and remove lines and wrinkles around the lips and lower portion of the face along with increasing lip size.
AngelLift Customer Reviews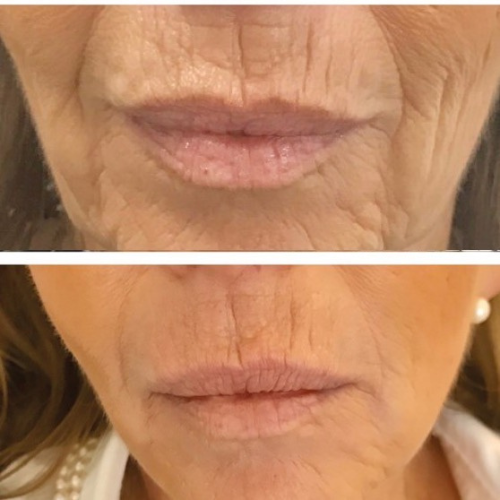 Incredible Results!
Great results! The lines around my lips are improving. Used so many products in the past that didn't work. My images are before using the strips and after 45 days of treating for at least 5 days a week, 1hr each lip give or take. I hope that this review will be helpful to all of you who are on the fence like I was, I wish I would not have waited so long.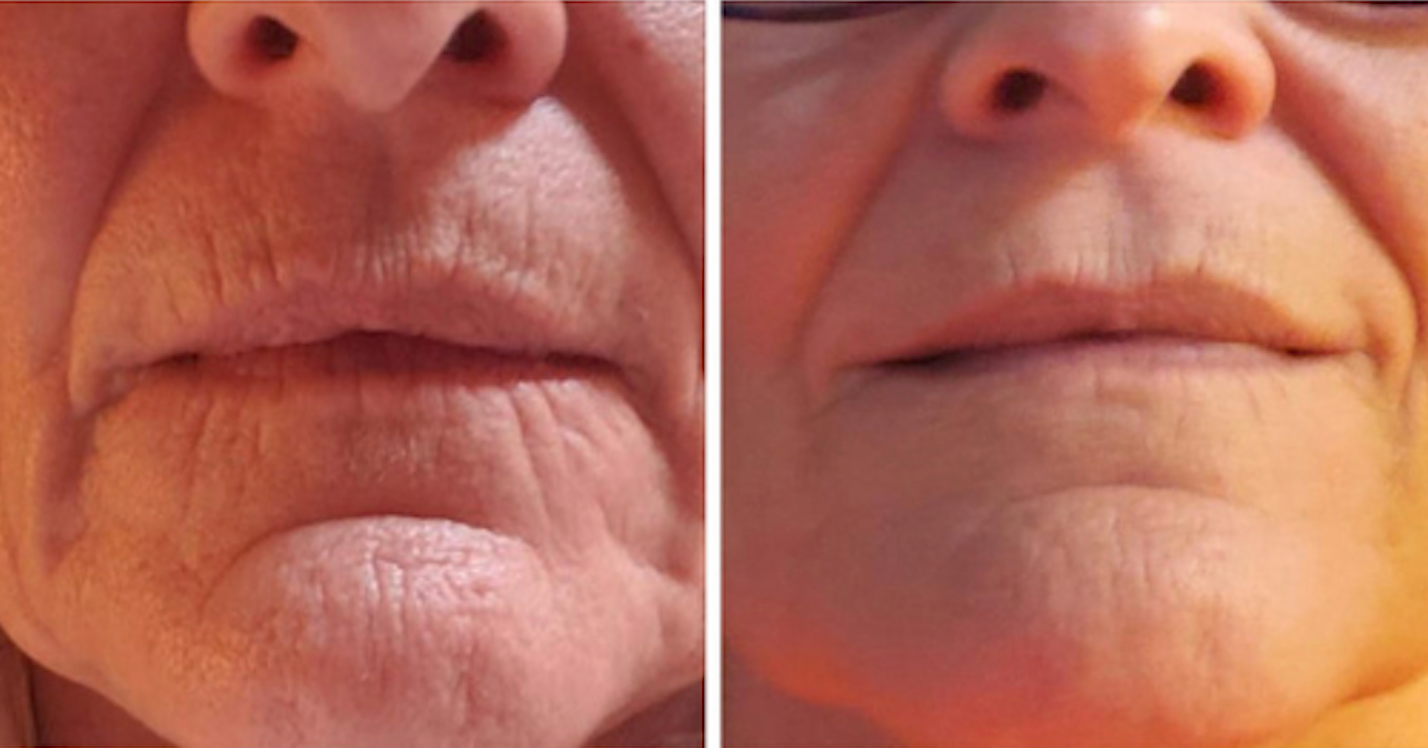 Can't believe my eyes!
Hi, I heard about Angel Lift on Facebook. Of course I had questions and doubts. After using Angel Lifts for four months, I can tell you they work beautifully. I wish I had taken pics, the difference in my lower face is remarkable. All lines have softened, some are gone. My mouth looks younger and my cosmetics glide on as they have not in years. I am 68 years old, and very particular about my appearance. I will be having no lip injections, nor fillers because of this product. The secret is to be consistent. It's easy, and the payoff is great. I can't say enough about this product. Buy it, be consistent, It is truly a game changer.